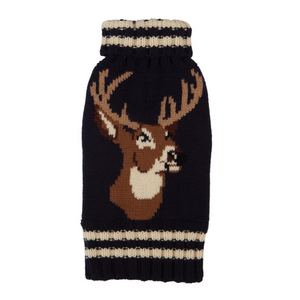 Fabdog Navy Stag Sweater
For centuries now hunting without dogs would be like having PB without the J. Unleash your dog's inner spirit animal with this regal navy stag sweater. Your dog 'aint afraid of no stag! Scotch and cigars not included. 
Specs
100% Acrylic
Super Soft Knit
Harness Hole
Machine Washable / Lay Flat to Dry
Sizes are the length of the dog in inches from the base of the neck to just before their tail. 
Sweaters
In order to calculate your pooch's size, you'll need to measure your dog's length from the neck to the base of their tail, which serves as the primary measurement in our clothing. The neck and chest measurements will help ensure you select the correct size for your dog in particular product style you desire.
| | | | | |
| --- | --- | --- | --- | --- |
| Size | Length | Chest | Neck | Breeds |
| 8" | 7-9" | 10.5" | 8" | Teacup Breeds, Puppies |
| 10" | 9-11" | 12.5" | 9.5" | Puppies, Yorkie, Chihuahua |
| 12" | 11-13" | 15.5" | 11" | Maltese, Shihtzu, Chihuahua, Bichon, Min Pin |
| 14" | 13-15" | 17" | 12" | Mini Schnauzer, Westie, Jack Russell, Dachshund, Frenchie |
| 16" | 15-17" | 19" | 14" | Frenchie, Pug, Schnauzer, Cavalier King Charles Spaniel |
| 18" | 17-19" | 21" | 15" | Cocker Spaniel, Welsh Corgi, Beagle, Australian Shepherd |
| 20" | 19-21" | 22" | 16" | Australian Shepherd, Springer Spaniel, English Bulldog, Pit Bull |
| 22" | 21-23" | 23.5" | 17" | Pit Bull, Boxer, Standard Poodle, Goldendoodle, Doodle Mixes |
| 24" | 23-25" | 25" | 19" | Golden Retriever, Labrador Retriever, Standard Poodle, German Shepherd |
---
We Also Recommend
---