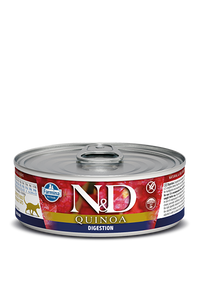 Farmina N&D Digestion Quinoa & Lamb Canned Cat Food
Farmina N&D Digestion Lamb Canned Cat Food combines lamb, herring, and herring oil to create a minimally processed can cat food ideal for cats with digestive issues.
Made in Farmina's state of the art kitchens in Italy, this wet cat food is:
Made specially for adult cats with digestive challenges
Stored in BPA-free, fully recyclable cans
Free of any binders, gums, or carageenan
Farmina's cans stand out from the pack for their "rawcan" processing technology: while most canned foods are cooked twice--first the raw ingredients before canning, and again after canning, Farmina's cans are made with a one-step cooking process. Farmina gently steams raw ingredients inside the can, preserving all of the natural juices and nutrients for a tastier, healthier canned food.
---
We Also Recommend
---